HART United Services and Programs
We pride ourselves in creating unique programs and services to over 150 individuals in a variety of settings throughout Connecticut.
GIVE FROM THE HEART
Help us fulfill our mission of serving our clients. Your generosity will help our agency continue to provide the highest quality of support services.
More than a house.
A home.
Community Companion Homes provide family-oriented living environments for individuals with developmental disabilities. 
This is what we stand for at HART!
Support HART United, Inc. with Amazon Smile
Click below and shop, or go to smile.amazon.com and choose HART United, Inc. as the charitable organization.


Community Living Arrangements

Independent Home Services

Community Residential Services

Community Companion Homes
150
Approximately 150 individuals served throughout Connecticut.
200
Approximately 200 employment opportunities within our organization.
67
67 Individuals supported by 48 CCH licensees in 24 towns throughout Connecticut.
He is safe, well-cared-for, treated lovingly, and always kept busy!
"Our son has been in a Hart home for almost four years now, and we feel so lucky to have him there! The house manager keeps everything running smoothly through snowstorms, illnesses, and any other unpredictable thing that comes up. In an industry with high turnover, much of the staff has been there since the first day he arrived. Other families I know have had problems ranging from just inconvenient to terrible, and we feel grateful every day that none of this happens in our son's home. He is safe, well-cared-for, treated lovingly, and always kept busy!"
MRS. MARINA DERMAN
Parent
Everyone finds love, happiness, and joy…
"Hart United Inc. has grown to be a model family home where everyone finds love, happiness, and joy to support living a better, stronger and healthier life. As a staff member at HART United, I have seen a results-driven approach by the management and team members where happiness grows because it's shared."
OLUFEMI ADEBAMBO
Direct Care Counselor
Respect for individuals with disabilities.
"Being at HART United has given me the opportunity to form good relationships, friendships and companionship with the staff and individuals. HART United has brought out the best in my leadership and behavioral skills. My experiences with our individuals has taught me what it means to love, care, and to share with others. It has given me a better sense of duty and responsibility and lastly, respect for individuals with disabilities."
ANTHONIA ADEYIN
Assistant CLA Residential Coordinator
Invested in our clients.
Invested in our community.
Stay up to date on how HART United fulfills our commitment to provide care and community to our clients and their families.
More than a job.
A meaningful connection.
People don't work at HART for just a paycheck. They come here to make a difference in someone's life.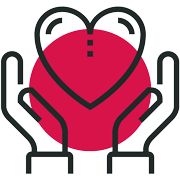 OUR PHILOSOPHY
Service and respect for people with disabilities.
HART United will continue to maintain a commitment to persons with developmental disabilities, affecting legislative changes that will empower individuals with developmental disabilities and their families to have more choices and opportunities in the community.